Panas Tumkiratiwong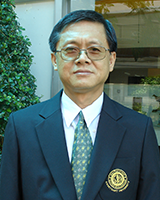 Assoc. Prof. Dr.Panas Tumkiratiwong

E-mail: This email address is being protected from spambots. You need JavaScript enabled to view it.
Tel: 02-562555 ext 3281

Education:

M.Sc. (Agricultural Science) 1983, Kasetsart University, Thailand

Post. Dip. Agri. Sci. (Animal Science) 1990, Lincoln University, New Zealand

MS. (Agricultural Science) 1994 Kasetsart University, Thailand

Ph.D. (Tropical Medicine) 2003, Mahidol University, Thailand

Research interests: Amphibian and Reptilian Reproductive Endocrinology

Research publications:
1. Tumkiratiwong P., K. Kumsurb and V. Boonchudoung. 2008. Seasonal profiles of sex steroid hormones and corticosterone of Silver Pheasant Lophura nycthemera jonesi maintained in captivity. Ornithol. Sci. 7: 67-73.
2. Tumkiratiwong P. and K. Lerkchundhakriat. 2011. Effect of a pyrimethamine-sulfanilamide combination on induced temporal infertility in male Wistar rats. Kasetsart J. (Nat. Sci.) 45: 59-69.
3. Tumkiratiwong P, W. Meesuk, L. Chanhome and A. Aowphol. 2012. Reproductive patterns of captive male and female monocled cobra, Naja Kaouthia (Lesson, 1831). Zool. Stud. 51(5): 692-700.
4. Tumkiratiwong P., S. Poothong, W. Taksintum, H. Suekkhachat, P. Kanchanabanca, and P. Suwapat. 2013. Annual Changes in Fecal Sex Hormones with Corresponding Changes in Reproductive Behaviors in Thai Sarus Crane, Black-headed Ibis and Lesser Adjutant Stork. Zool. Sci. 30 (12): 1070-1080.
5. Tumkiratiwong P, R. Ploypattarapinyo, W. Thong-asaand U. Pongchailert. 2014. Reproductive toxicity of Momordica charantia ethanol seed extracts in male rats. Iranian J. Reprod. Med. 12 (10): 695-704.